Those cool guys at Thrillist have found an equally cool app for serial trekkers and travellers: Hyper is a personal travel agent that books all your travel via text message.
The Kayaks and Expedias of the world are putting travel agents out of business left and right. But you know what? Having a real expert wade through all the tricks and traps of booking your trip is pretty damn helpful. Since actual human-to-human contact is just UNTHINKABLE these days, the brains behind the new Hyper app bridged the convenience of modern tech with the quality control of a live person. Now you can plan trips, book flights and hotels, and manage all manner of travel reservations, all via text. Here's what you need to know.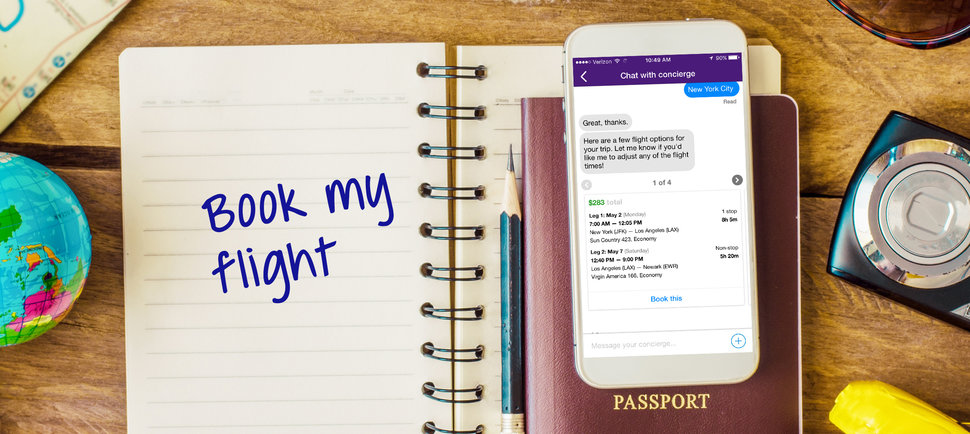 Who should download it right now: Frequent travelers who don't have time to waste coordinating their itinerary details
Where to get it: iTunes App Store
Do you prefer a window or aisle seat? Which airlines do you like, and which do you loathe with the fiery hatred of a thousand suns? Specify your preferences in your profile details when you first launch the app, and it'll try to accommodate you whenever possible. You can also sync the app up with your frequent-flyer accounts or any rewards programs you want factored into your fare.
Besides the convenience, the best part of Hyper is that it's free — at least when it comes to planning and booking. However, there are also a pair of premium paid versions that get you an even higher level of service. The $20-per-month Pro plan provides 24/7 access, the ability to cancel reservations or change your itinerary with a text, and the perk of having Hyper handle any customer service requests (lost luggage, etc.) on your behalf. There's also a $25-a-month Business option, which gets you everything in Pro, plus quite a few extras that make it easier to book group travel and manage your expenses.